Wij serveren eenvoudige, verse, pure gerechten. Dat smaakt goed en geeft je een goed gevoel. Er zijn veel vegetarische opties en we maken gebruik van lokale leveranciers om versheid en duurzaamheid te garanderen. Alles is met liefde bereid en dat is terug te vinden in de smaak.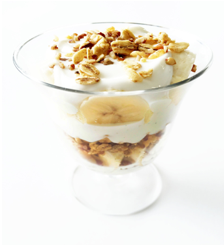 Bananen & Honing Yoghurt Banana & Honey Yogurt   
Gemalen walnoten, bananen, muesli, honing en Griekse yoghurt
Crushed walnuts, bananas, granola, honey and Greek yogurt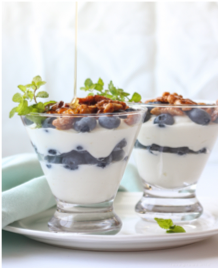 Bosbessen Cheesecake Yoghurt Blueberry Cheesecake Yogurt 
Griekse yoghurt met de smaak van bosbessen en citroen cheesecake
Blueberry and lemon flavoured 'cheesecake' Greek yogurt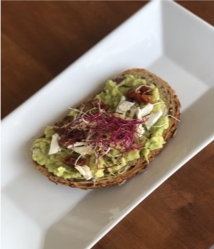 Avocado & Zongedroogde Tomaten Toast Avocado & Sundried Tomato Toast (+ Soup of the Day)
Gepureerde avocado, zongedroogde tomaten en feta
Mashed avocado, sundried tomatoes and feta cheese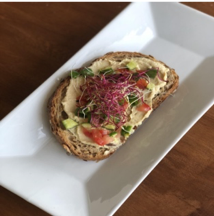 Salsa-Toast uit het Midden-Oosten Middle Eastern Salsa Toast
( + Soup of the Day)
Humus, tomaten, komkommer en lente-ui
Hummus, tomatoes, cucumber and green onion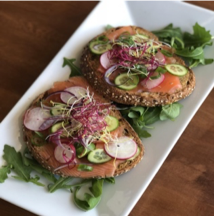 Gerookte Zalm Toast Smoked Salmon Toast ( + Soup of the Day)
Dille mosterd, gerookte zalm, radijsjes, ui en komkommer
Dill mustard, smoked salmon, chopped radishes, onion, and cucumber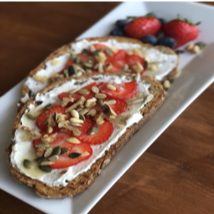 Romige Ricotta & Aardbeien Toast Creamy Ricotta & Strawberry Toast   
Ricotta, walnoten, honing en aardbeien
Ricotta cheese, walnuts, honey, and strawberries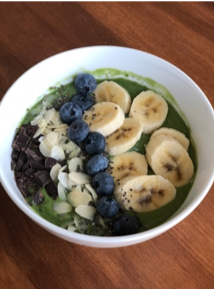 Groene Matcha Smoothie Green Matcha Smoothie 
Amandelmelk, spinazie, komkommer, avocado, matcha, banaan en honing.
Bedekt met banaan, bosbessen, chia zaden, pure chocolade en amandelsnippers.
Almond milk, spinach, cucumber, avocado, matcha, banana and honey.
Topped with banana, blueberries, chia seeds, dark chocolate and almonds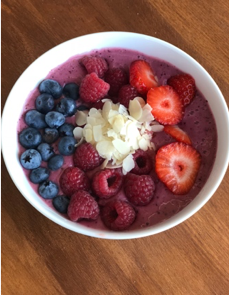 Bessen Smoothie Berry Smoothie Bowl
Amandelmelk, een mix van bessen, Griekse yoghurt, honing, banaan en vanille.
Bedekt met verse bessen, pompoenzaden en muesli.
Almond milk, mixed berries, Greek yogurt, honey, banana, vanilla.
Topped with fresh berries, pumpkin seeds, granola